Treat Neurodermatitis and Skin Diseases with Hypnosis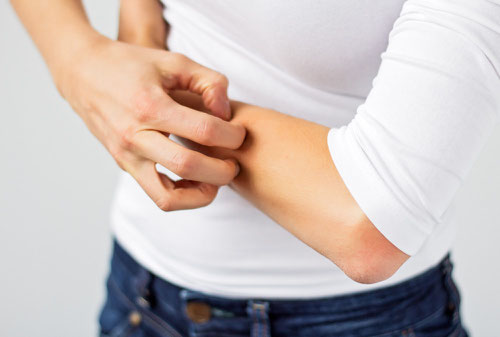 I can empathise with the psychological stress that neurodermatitis brings, as I also suffered from the excruciating itching as a child.
Neurodermatitis and Hypnosis
Hypnosis is the only treatment method for neurodermatitis that takes into account the cause of the disease: the nerve irritation. The classic dermatological treatment looks only at the consecutive symptoms.
The effect of allergens for neurodermatitis is often misinterpreted. While allergens do not cause the neurodermatitis, the neurodermatitis patient reacts more strongly to them than a healthy person. The reason for this is the constant overstimulation of the neurodermatitis patient's immune system. The nerve irritation in the skin leads to an inflammatory reaction with migration of inflammatory cells (lymphocytes) and to the distribution of substances which maintain the inflammatory response (cytokines, etc.). An anti-inflammatory ointment does not treat the actual nerve irritation, but only the inflammatory response.
The skin's nervous system is interconnected with the central nervous system, which is the reason why the skin reacts in cases of stress. By treating the central nervous system with hypnosis, the skin's nerves are taken into consideration as well. The objective is to calm the entire nervous system including the skin's nerves, which promotes the healing of the neurodermatitis.
A study by the University of Tübingen has shown that neurodermatitis patients who were treated with hypnosis experienced significant improvements in skin condition and mental health. This and other studies demonstrate the value of hypnotherapy in the treatment of neurodermatitis patients.
I am convinced that the psychological component will become more and more important for the treatment of neurodermatitis, and that dermatologists will cooperate regularly with competent hypnotherapists. This is the only way to significantly improve the chances of recovery and the quality of life of those affected. 
By learning self-hypnosis, you can regulate and calm your nervous system in the presence of stress yourself.
Positive Effects of Hypnosis for Skin Diseases
Calming of the immune system for patients with autoimmune disease




Reduction of stress hormones and toxic substances by deep trance




Activation of the immune system for the treatment of viruses, bacteria, and fungal infections




Reduction/elimination of itching with suggestion




Instructions for self-hypnosis to get rid of itching and to create a deep trance




Identifying and dissolving the psychological factors causing the disease